I know I'm late to the party on this one, but in my defense, I did start the post yesterday. I had every intention of finishing it when I got home from work, but then I cooked dinner and went to choir and tried to make sure the house wasn't in disrepair when our friend came for dinner. After all that it was time to eat a cupcake and go to bed.
Never let it be said that I don't love a good link up…or a good post idea…or anything to make my posting a little easier. Today I'm linking up with Shay at Mix & Match Family for "What's Up Wednesday," and we're doing this Myspace survey style. Does anybody but me remember those? How long did we spend crafting the perfect answers?
What we're eating this week…

via
I'm not some sort of Shay fan girl…I just really like breakfast casserole. I love them in basically any shape, form, or incarnation, but this one was just different enough from my usuals. So good.
What I'm reminiscing about…
There's pretty much never a time I'm not thinking about the beach. We won't be going this year what with our teeny tiny on the way, but there's nothing stopping me from just looking at the pictures and pretending I'm there. Rest assured that by next summer (when my baby will be almost ONE…he's not even here yet. I can't even think about it.), I will be speeding down the highway Fast and Furious style.
What I'm loving…
These pants are my favorite thing I've ever bought at Walgreens. You read that right. Walgreens. I now own two tunics and a pair of pants from Walgreens. (Not to mention my Family Dollar maxi skirt and Dollar General swishy shorts.) They're pretty long on me, so I have to wear them with tall shoes, but since I just got the cutest black wedges (with a 30% off coupon) at Kohl's, it's like a ready made outfit.
I think everyone in town has these shoes this season. I've seen so many colors of these…and I love them all. I like these because they aren't too tall. Even with my belly making everything unbalanced, I can still wear these easily.
What we've been up to…

Funny story…this sign was misspelled until approximately 2 minutes before guests arrived. My aunt and sister are both smart people and really good spellers. We still aren't sure what happened. "Congratulions" Rawr.
Davis had his first shower last weekend! My sister and aunt threw the sweetest shower, and Davis got some of the cutest things! I've been able to do lots of his laundry (still fun) and get things organized in his room.
What I'm dreading…
My kids took their state standardized test this week. Boo. I'm not going into some sort of long, drawn out post about how unfair I think these are or how inaccurate, but this should sum it up…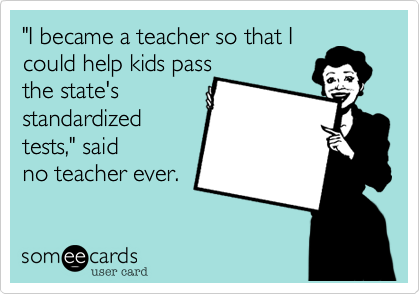 via
I am not a test score…and neither are my kids.
What I'm working on…
Meal planning a month and a half in advance
End of the year activities
Nursery organizing
Sleeping through the night without sweating
Keeping my house clean when all I want to do is sleep
What I'm excited about…
I've officially reached the point where I'm more ready to meet Baby Davis than I am enjoying being pregnant. Don't get me wrong here. I have loved being pregnant, and for the most part I still feel really good. Now it's just more exciting to think about meeting Davis than it is to think about being pregnant for four. more. weeks.
What I'm watching/reading…
I love the end of the school year, but it also signals the end of good television until the fall. Most of my shows are winding down, and it's reruns until basically September…boo. We have been really into Vikings for the past few seasons. Probably not historically accurate, but you weren't there…you don't know…
What I'm listening to…
Back when I had a thirty minute commute, I listened to a lot of radio. (Country if you're wondering.) Then whenever I was feeling especially stressed, I would turn off the radio and use my commute as a time to pray for the day…and then again on the way home. Now I almost never listen to the radio. I have enough going on in my head. Sometimes the music is just extra noise. I do like to listen to my choir music when I walk on the treadmill (or have an especially trying day). This week it's "And We Are Glad," "Who Is Like the Lord?" "There is Power in the Blood," and "You Never Let Go."
What I'm wearing…
Currently, it's pajamas. Any other time it's either my Walgreens pants or whatever else I can stuff myself into…I'll spare you the pictures.
What I'm doing this weekend…
We have another shower for sweet Baby Davis! I'm so excited, and I love seeing people love on him before he's even here!
What I'm looking forward to next month…
Are you kidding? Davis Malcolm will be here (I hope!). My mind hasn't reached the point over being over being pregnant, but my whale-like body is definitely slowing down. We'll be full term in about a week and half, and then we're just waiting on Davis!
What else is new…
Well…blogging more than once every other month lately has been kind of nice. I forgot how much I actually like writing things down and reading blogs and exercising my brain beyond my weekly television schedule. I've stalled about halfway through my little redesign, but I hope to have a new header soon!