I'm back from a weekend with Keith…with no pictures yet again. I have got to do better. Oh well. You'll just have to take it on faith that we had a wonderful weekend. I can now say that I've been to a duck blind drawing (which I think makes me pretty good hunting-wife material).
In other news, it's beach countdown week! I am off work all week, and I will be doing non-stop beach preparations. Eeeeeee! I am so excited.
To totally switch gears, I'm linking up with Neely and Ashley for Sunday Social. I've never done this link up before, but this week's questions were all about fall. How could I resist? I know I've been talking typing y'all's ears off about the beach, but I love love love fall!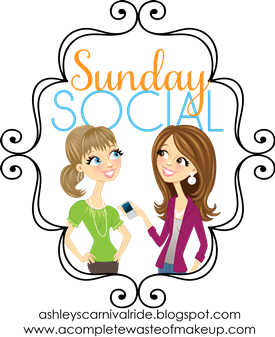 Let me be clear. I am NOT wishing away my vacation, but watching all my daycare kids start school has really made me start thinking about fall and everything I've got coming up. So…here we go.
What is your favorite fall activity?
Where to begin? School (I know…), Halloween, leaves, Thanksgiving, cute clothes, delicious cool weather food, not sweating constantly because of the oppressive heat, decorating for all of the end of the year holidays, GRADUATING, fall crafting (I have some big plans), using quilts, our city's gigantic thrift sale, etc.
Do you follow a football team? If so, which one and why?
I would never dream of supporting any other teams but the
UT Vols
and the
Titans
. I'm not going to lie and say I watch every single game, but there is something so nostalgic about watching the team run through the big
T
. I am just dying for Keith to take me to a Vols game. Also, I saw the cutest UT scarf at the store the other day. It wasn't overdone and tacky…I may have to go back and snatch it up!
What is something fun about fall in your area?
The Service League in my town holds a huge thrift sale every year. My mother, sister, grandmother, and aunt all wake up early, and go wait in line to be there. Last year I found a pair of practically brand new Under Armour tennis shoes for $2! It was definitely the find of the year.
Fave fall outfit staples?
Blue jeans, blue jeans, blue jeans! Also…I have like eight sweatshirts (and pairs of sweatpants) – obviously I love those too.
Thing you are most looking forward to about this coming fall season?
I already said the thrift sale, but if you notice in my first answer…I'm graduating DECEMBER 15 (technically still fall)! I am so ready.
Favorite fall holiday? Traditions?
I loooooove Thanksgiving! The day after (instead of Black Friday nonsensing), my mother, sister, and I decorate our whole house for Christmas…which is a pretty big
ordeal
.
Technically this was taken in the summer (on vacation two years ago), but we're at the
Christmas Place
in Gatlinburg – so it's applicable. Vacation. Summer. Looking forward to fall/decorations. Check, check, and check.
Have a great week!