…I wish this post's title was more accurate! Of course I don't have wedding pictures (and won't for the next year), but since I just met with a photographer, I'm even more
anxious
excited
everything
. Also, I just read
this
gem of a post over at Suzels Says (In addition to being one of my fave bloggers, Susan is also a photographer in the Virginia area. She shared the tips on her professional photography site
here
), and it could not have come at a better time for me! Once we've booked the photographer I will obv (that's how I abbreviate obviously…in writing and in speech) tell you all about her. For now, let me just say, that she was
so sweet
! My mother and I met her at Starbucks to discuss all things wedding, and I feel even more like a real bride now. She was so helpful and really seemed to have her head on straight.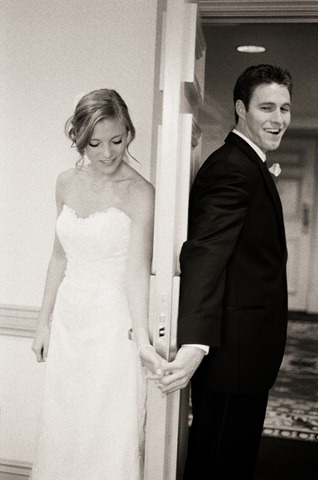 Love this!
via
Photo Credit
Here are some of my
must haves
in the photography department:
-
Common sense!
If she walks in staring off into space and has no ability to corral people for photos that's a deal-breaker.
-
Organization
– it may seem obvious, but I would never want someone just randomly snapping shots of every little thing (however good they might be) without taking the important ones with family, friends, etc.
-
Knowledge about the field
…because I have none. I am definitely going to get a wedding album (like
this
). Although she does not include this in any of her packages, the photographer knew exactly what we were talking about and said that we could in fact order through her. If she had looked at me with a blank expression and not known what I meant I probably would have gotten up and left.
-
An open mind
. While I need the photographer to have some pretty concrete ideas, it is also so nice to be able to share inspiration (…
Pinspiration
) and add some more personal touches to the day.
I love photography, but I kind of need someone holding my hand through the whole process. Once we finalize a few details, I feel like we could have our wedding photographer nailed down, and that is so exciting to me! Another exciting tidbit? We're probably going to do our engagement photos sometime within the next few months. I am 98% sure of who is going to do those, and her work is incredible.
This is all we have right now – snapshots. I like them, but how fun is it going to be to take real pictures?! As per usual, I'm already over-analyzing and trying to plan our outfits months in advance. Ideas, tips, anything?
P.S. Don't forget to enter my Kelsey Bang giveaway – it closes Monday!