Two link ups in a row? It's like I've stepped through the looking glass! I almost never do that, but I have always wanted to join in with Ashley at Adventures of Newlyweds for Friday's Letters. Plus, this has been the longest week everrrrrr, so I'm a little short on my own ideas.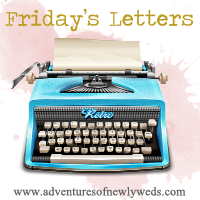 Dear weekend, where have you been all week? Dear work, thank you for being over for this week…and almost for the entire summer even though I really love you (usually). Dear Coca-Cola, I'm looking forward to our date this afternoon at 3:15. Dear Blue Bell, if you continue making Christmas Cookie ice cream we can continue being friends. Dear blogosphere, you have brought some amazing ladies my way, and I can't wait to see what you have in store for me. Dear wedding dress, I'm still sad that you have to hang in the closet for almost a year just teasing me with your gorgeousness. Dear beach, get ready. I'm coming for you in two weeks and one day.
There you have it ladies, my first Friday's Letters…so fun! You'll have to forgive me if I'm not creeping around a lot in the next few days. I'll be busy hanging out with
this fella
AND
this girl…deep in conversation, no doubt.
I'll see you when I see you…with a new recipe, new pictures, and some beach news!